Original article can be found at: http://jazzmando.com/new/archives/001596.shtml
August 4, 2011 | Reader review; 1st Annual Jim Richter Rock-n-Blues Mandolin Camp
Summer is ripe with festival and workshop opportunities, and we wanted to share the experiences and feedback of reader Ron Bird, who drove 550 miles from Arkansas to attend a week of Rock and Blues instruction in Bloomington, Indiana. There's nothing like the social interaction of a jam and hands-on teaching from a pro to help advance a player's understanding of an instrument. We encourage everyone to take advantage of these events in your area, and the inaugural Jim Richter Rock-n-Blues Camp would have been a great place to start.
Special thanks to Ron for the insight!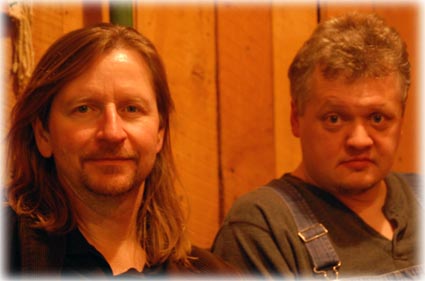 "Back in April while surfing the mandolin boards I found that Jim Richter of mandolin blues fame was going to put on his first camp in Bloomington Indiana in the middle of July. Being a newer player and have never attended a camp before, I was interested especially from a blues and rock mandolin standpoint. So I signed up! About 2 weeks before the camp, Jim emailed us all and started a bit of an email chain so that the attendees could introduce themselves and get a discussion going about the camp, our thoughts, hopes and dreams about our future as mandolin players.
We (my wife and I) arrived on Thursday night to attend the unofficial start of the camp with a concert performed by Gordon Bonham (a great blue guitarist and singer) and Jim Richter on mandolin. Many of the attendees and about 40-50 people braved the 100 degree in the shade temperatures to watch and hear some blues that Thursday evening and were treated to some great music along with a debut performance on the bass guitar by 10 year old Gus Richter.
After the concert we headed back to the Grant Street Inn (camp location) to cool off and to meet and jam a little for the evening. Jim also showed which was a bit of a surprise to me. I had only thought that he would attend a bit of a structured jam on Saturday night. Not so! Jim came and stayed and was totally accessible throughout camp. The Grant Street Inn was also a great place to hold camp. Good food, service, and a very reasonable rate negotiated for the camp.
Friday was opening day where most came and went as they wished with a lot of good picking and getting to know each other in the lobby. Jim started private lessons in the afternoon and I happened to be first. The lesson was what I had hoped for with Jim really having good instruction and advice for me. Mostly this appeared to be because he took the time before the lesson and camp to read through my material that I had sent him earlier and could truly see where I am in mandolin playing. It looked like all lessons that afternoon ran late with Jim making sure that each had a good, full lesson. Then, after supper, we all met again in our camp room for more informal jamming. The jams were great as an informal tool to get more settles into the camp mode and to get more practice playing with other people. Jim just jammed along but gave a lot of his knowledge during these. I'm not sure if this was intentional or not. Either way, he passed on a ton of good info during these sessions.
Saturday started with more good breakfast at the Inn and more lessons in the morning before the official workshop. Then we all settled down in out meeting area to start the workshop. This turned into a good two-sided discussion with Jim about different aspects of philosophy, technique, practice, blues, rock, arrangement and jamming. While we could obviously talk about these subjects for days/weeks/etc. Jim did a great job of discussing all topics without making it feel rushed.
Saturday night–more jamming! Whew. Most of us were getting pretty tired but feeling good enough to do another night of jamming until late. A lot of brevity, comradeship and plenty of picking helped to round the weekend and camp.
Overall, I was highly pleased with Jim Richter's 1st Annual Rock and Blues Camp. Jim showed a great skill for speaking and conveying thoughts throughout to those of us at all levels. He obviously has a lot of experience in speaking and teaching. It also felt like Jim put his heart into the camp like he does his music. If there was one thing I'd add there might be more small group instruction. I've heard that Jim has already addressed that and is making plans to include one or more instructors to help out next year.
With a full amount of structured help given to all, I came away feeling like I have an organized approach to my playing and a good 'Zen' feeling about what I want from my playing. With this year's great bunch of attendees and the well ran camp, I've already asked for a reservation to next year's camp."